AGRA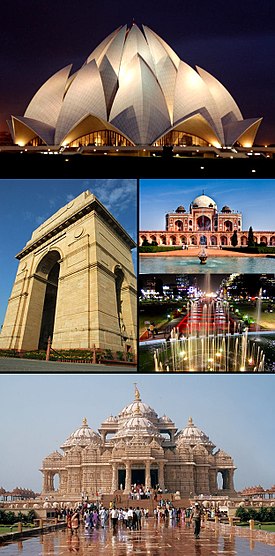 Agra is a city on the banks of the river Yamuna in the northern state of Uttar Pradesh, India. It is 378 kilometers west of the west of the state capital, Lucknow, 206 kilometers south of the national capital New Delhi and 125 kilometers north of Gwalior. It is one of the most populous cities in Uttar Pradesh and the 19th most populous in India. Agra can also refer to the administrative district that has its headquarters in Agra city. It is a major tourist destination because of its many splendid Mughal-era buildings, most notably the Taj Mahal, Agra Fort and Fathehpur Sikri, all three of which are UNESCO World Heritage Sites. Agra is included on the Golden Triangle tourist's circuit, along with Delhi and Jaipur.
The city was first mentioned in the epic Mahabharata, where it was called Agrevana (derived from Sanskrit meaning "the border of the forest". Legend ascribes the founding of the city to Raja Badal Singh, a Sikarwar rajput king whose fort, Badalgarh, stood on or near the site of the present fort. However, the 11th century Persian poet Mas'ud sa'd Salman writes of a desperate assault on the fortress of Agra, then held by the Shahi King Jayapala by Sultan Mahmud of Ghazni. It was mentioned for the first time in 1080 AD when a Ghaznavide force captured it. Sultan Sikandar Lodi (1488-1517) was the first to move his capital from Delhi to Agra in 1506. He governed the country from here and Agra assumed the importance of the Second capital. He died in 1517 and his son, Ibrahim Lodi remained in power there for nine more years and several palaces, wells and a mosque were built by him in the fort during his period. Finally being defeated at the Battle of Panipat in 1526. Between 1540 and 1556, Afghans, beginning with Sher Shah Suri ruled the area. It achieved fame as the capital of the Mughal Empire from 1556 to 1658.
Points of Interest in Agra
Taj Mahal: The Taj Mahal is an immense mausoleum of white marble, built between 1631 and 1648 by order of the Mughal emperor Shah Jahan in memory of his favourite wife. Taj Mahal means Crown Palace. One of his wife's name was Mumtaz Mahal, Ornament of the Palace. The Taj is one of the most well preserved and architecturally beautiful tombs in the world, one of the masterpieces of Indian Muslim architecture, and one of the great sites of the world's heritage.
Agra Fort: The fort is similar in layout to the Red Fort in Delhi, but considerably better preserved, as much of Delhi Fort was razed by the British after the Mutiny. As much as palace as a defensive structure, it is also constructed mainly from red sandstone.
Memtabh Bagh: These botanical gardens give you an opportunity to view the Taj at a remove from the crowds of tourists.. Alternatively, walk past the entrance and straight to the sandy banks of the river: the view of the Taj is every bit as lovely
Sheroes Hangout: This Hangout is where empowerment of women no more remains a widely funded phenomenon, but materializes in form of a readers' cafe, an activism workshop, a community radio hub, and an exhibit space, where works crafted by Sheroes will be on display.
Jama Masjid: A large mosque attributed to Princess Jahanara Begum, built in 1648 during the reign of the father Shah Jahan. Notable for its unusual dome and absence of minarets.
Mughal Heritage Walk/Kachhpura Village: The Mughal Heritage walk is a community based tourism initiative of CURE (center for Urban and Regional Excellence) and the Uttar Pradesh government, to help villagers make an income from tourism and improve their living conditions. This one kilometer walk takes place on the riverside opposite the Taj Mahal and goes through Kachhpura village.
Korai Village: Korai, a hamlet nestled in Agra, just off the Fatehpur Sikri Highway is surely a must visit. It is a fulfilling experience that will give you a glimpse into the daily life of the tribal villagers of India. This village belongs to former bear reapers whose only source of livelihood was making money through bear and monkey dances. However, after their bears got snatched away by the wildlife authorities because of protection of animal rights. Of the millions of tourists who travel to India annually, only a handful get a chance to visit and experience this part of the country.
Fathepur Shikri: Fatehpur Sikri ranks among the mostly visited spots in India. Situated at an easy distance from the city of Agra in the state of Uttar Pradesh, Fatehpur Sikri is an important specimen of the Mughal dynasty. By going for tours to this historical site, you can get a feel of the rich historical culture of medieval Mughal India.
Connection/Connectivity
Airways – As of now Air India connects Agra to the rest of the world via Mumbai, Delhi 5 days a week. These flights are usually on time and observe full load factors of now Air India connects Agra to the rest of the world via Mumbai, Delhi 5 days a week. These flights are usually on time and observe full load factor. Agra still needs many more daily flights. The nearest Airport is Bagdogra Airport (IXB) from Siliguri.
Railways – Agra is on the central train line between Delhi (Station Code: NDLS) and Bombay (station Code: CSMT) and between Delhi and madras (station code: MAS) and many trains. Every day some east-bounds trains from Delhi also travel via Agra, so direct connections to points in eastern India (including Calcutta are also available. There is close to 20 trains to New Delhi and Gwalior Junction every day, and at least three or four to Bhopal, Indore, Nagpur, Bombay and Madras. There are three main railway stations in Agra. The nearest Railway station from Siliguri Town is New Jalpaiguri Railway Station (NJP) New Jalpaiguri Railway Station (NJP) is directly connected with all major stations in India.
Roadways – Idgah Bus Stand, taj Depot, Ford Depot and Inter State Bus Terminal (ISBT) are the major bus stands in Agra, connecting Agra to most of the bigger cities in North India. It is a major Junction of highways with 3 national highways and 1 expressway originating from Agra. Another national highway passes through the city bringing the total highway outlet to 6.
Get In Touch
Contact Address
India:
Red Planet Tours & Travels
Elite Plaza (opp. Vishal Cinema)
2nd Mile, Sevoke Road
Siligur - 734001
Phone: +91 353 2540258(IND)

Nepal: Kathmandu
Red Planet Tours & Travels
Near Hotel Yak & Yeti Road,
Yak & Yeti Lane
Durbar Marg, Kathmandu, Nepal
Phone: +977 1 4230683

Nepal: Kakarbhitta/Kakarvitta
Red Planet Tours & Travels
Main Road, Mechinagar Nagarpalika - 06
Post: Kakarvitta, Jhapa, Nepal
Phone: +977 23 562216 / 563526